At a time when direct action and demonstrations are not possible, Parental Alienation Awareness day 2020 is being celebrated in a poster, a film and a book.
Support organisations from 21 countries from across the world have collaborated to issue this poster.
The film Erasing Family was in the middle of a sold-out screening tour when the Coronavirus pandemic hit.  The documentary will premier online on Saturday April 25th to coincide with Parental Alienation Awareness Day.  Tickets for the screening at https://vimeo.com/ondemand/erasingfamily
Director Ginger Gentile took years to find young adults willing to go on camera to tell their stories. Many families do not want to talk about a child being brainwashed to hate a parent after divorce, due to shame.
Family courts are often overwhelmed with cases, and few protocols exist to help these families, forcing them to fight for custody, instead of helping them to be co-parents.
This film wisely refrains from taking sides but leaves us with the indelible impression that if we don't wish to leave a child behind, we need to not leave a parent behind," quoted Dr. Warren Farrell, co-author (with John Gray) of The Boy Crisis.
More information including resources to help families can be found at www.erasingfamily.org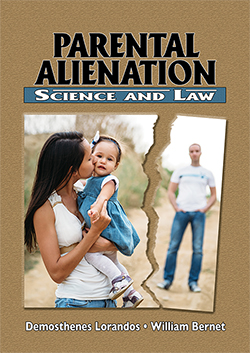 This new book addresses one of the most contentious issues in contemporary forensic psychology and child psychology: parental alienation.  It has has three major themes: comprehensive guidance for both clinicians and forensic practitioners on how to identify parental alienation in their clients; detailed information for attorneys who want to demonstrate that the concept of parental alienation fulfils Daubert and Frye criteria for testimony in U.S. courts; and precise rebuttal of the abundant misinformation and outright false information that has been published regarding parental alienation.
While much of the legal information  may be US oriented , the contributors are major figures in this field.  Available from the publisher: https://www.ccthomas.com/details.cfm?P_ISBN13=9780398093242
8 likes