Central Scotland Group Meeting
Event details
Date

Tuesday 11 March, 2025

Time

6:00 - 8:00pm

Venue

Family Life Centre,

2nd Floor, 61-63 Murray Place,

Stirling

FK8 1AP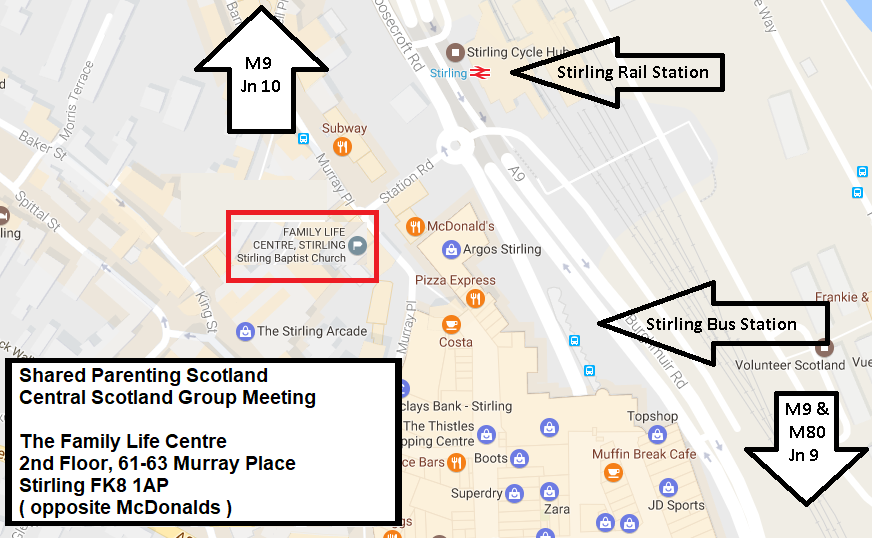 Stirling meetings are held on the second Tuesday of every month. You don't need to book in advance, but if we have your email on record you will get a reminder a few days beforehand, listing which lawyer is going to be at the meeting.
We've found that it helps for parents, grandparents and other family members to talk to others who are in a similar situation and are able to share their experiences.  You may be looking for others to talk to, or need help of specific sorts – this is especially useful if you are going through a court process.
Meetings are organised and run by Shared Parenting Scotland volunteers and staff.  We sometimes invite representatives of relevant organisations to speak at meetings.
Most of our meetings have a lawyer present and we are very grateful to the family lawyers who donate their time to attend our meetings and give general advice. Some meetings also have short one-to-one advice sessions with these lawyers.  Please say at the start of the meeting if the lawyer attending is involved with your court case in any way and we will ensure that there is no compromise of interests.
Our meetings are open to all so if you are attending a meeting and would like a relative or friend to accompany you, they are very welcome to attend.